Global Fund for Women
Fighting female sexual mutilation is all about changing social norms.

$49,871

of 49,946 needed

291

supporters

$49,871

of 49,946 needed

291

supporters

$49,871

raised

291

supporters

Join Glamour in honoring Malala Yousafzai—this year's Women of the ...

$46,246

of 50,000 needed

132

supporters

$46,246

of 50,000 needed

132

supporters

$46,246

raised

132

supporters
The Global Fund for Women is a publicly supported, nonprofit grantmaking foundation that advances women's human rights by funding women-led organizations worldwide.

We provide general operational support and project grants to organizations working at the local, national and international levels to enable women and girls to realize their human rights and live free of discrimination and violence.
Groups in Croatia pool their resources together to prevent sex trafficking and s...
East Europe and Central Asia
Woman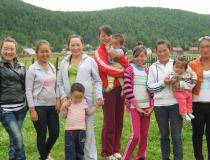 Help young women in Ulaanbaatar access support groups to learn to protect and ad...
$1,570

raised

18

supporters
$1,570

raised

18

supporters
$1,570

raised

18

supporters