Trees, Water & People
Women who have escaped from domestic violence deserve a new life and a safe home...

Western and Central Europe

Woman

$543

of 13,943 needed

11

supporters

$543

of 13,943 needed

11

supporters

We're supporting teen parents to thrive and be the best parents they can be.

Western and Central Europe

Teen

$30

of 15,147 needed

1

supporters

$30

of 15,147 needed

1

supporters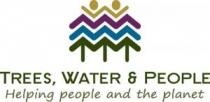 Since 1998, Trees, Water & People has taken a community-based approach to sustainable development with continuing reforestation, watershed protection, renewable energy, clean cookstoves, ecosystem restoration, and education programs in Latin America and the United States.

Our work is guided by two core beliefs: Natural resources are best protected when local people play an active role in their care and management; and preserving local ecosystems is essential for the ongoing social, economic, and environmental health of communities everywhere.

Trees, Water & People's mission is to improve people's lives by helping communities protect, conserve, and manage the natural resources upon which their long-term well-being depends.

At Trees, Water & People we are dedicated to moving people beyond survival - to a greater success. We hope you will join us in this effort!