Girls for Gender Equity
Fighting female sexual mutilation is all about changing social norms.

$49,871

of 49,946 needed

291

supporters

$49,871

of 49,946 needed

291

supporters

$49,871

raised

291

supporters

Join Glamour in honoring Malala Yousafzai—this year's Women of the ...

$47,401

of 50,000 needed

137

supporters

$47,401

of 50,000 needed

137

supporters

$47,401

raised

137

supporters
"Girls for Gender Equity, Inc. (GGE) is an intergenerational organization committed to the physical, psychological, social and economic development of girls and women. Through education, organizing and physical fitness, GGE encourages communities to remove barriers and create opportunities for girls and women to live self-determined lives.

Founded in 2000, by Executive Director Joanne Smith, GGE responds to community needs confirmed when a coalition of 80 low-income residents of color from Central Brooklyn petitioned the Open Society Institute (OSI) to help change the negative societal stereotypes of girls and women. Smith used the OSI fellowship to launch GGE as a comprehensive, equitable after-school program that provides education, information, and critical resources to help ensure safety for NYC youth in their schools and communities. To accomplish this, GGE utilizes a dual approach of community organizing and service provision. Our youth-led initiatives mobilize girls, youth, adults, activists and educators under Title IX of the Education amendment and its ten points to work collaboratively toward sustained, systemic change by developing innovative opportunities that nurture the optimal development of girls and women. Now celebrating our 10-year anniversary, GGE is a powerful presence in our communities, serving over 600 participants annually. Over the past decade, GGE has mobilized and supported over 5,000 young people from underserved communities of color in NYC, who regularly experience sexual harassment and gender violence with no idea of their rights or who to turn to at school."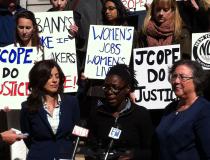 While 80% of our Sisters in Strength high school youth leaders are accepted to c...
"GGE will forever live on, even if it means some of us create our own programs...
$17,600

raised

31

supporters
$17,600

raised

31

supporters
$17,600

raised

31

supporters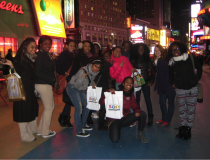 Help us train peer educators to provide college preparation for young women.
$10,000

raised

1

supporters
$10,000

raised

1

supporters
$10,000

raised

1

supporters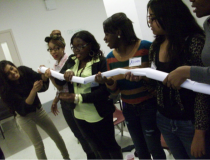 College is incredibly expensive with many necessary expenses beyond tuition. Hel...
$10,000

raised

15

supporters
$10,000

raised

15

supporters
$10,000

raised

15

supporters